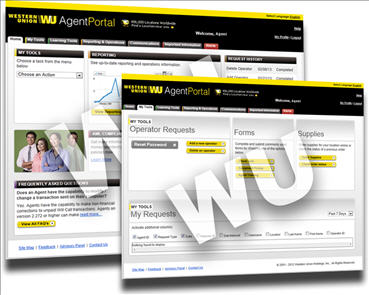 Western Union® AgentPortal
---
Western Union® AgentPortal is an online management tool for our Agents. It provides a variety of self-service operational tools, information on critical business areas as well as training opportunities. The site is designed to empower Agents worldwide, to improve efficiency and enhance the Western Union® consumer experience.
Join the fast-growing AgentPortal community and start enjoying all of the benefits that AgentPortal offers.
Don't be left out! Sign up for AgentPortal today! *Passwords are unable to recognize the + character. Please update your password now if you have the + character in your password
ALREADY REGISTERED? LOG IN HERE.
For added security, please enter the code displayed to the right in the text box provided. Enter the characters to the right exactly as they appear.
Not Registered Yet?
Register today for information on the global launch of AgentPortal.
Become An Agent
Becoming a Western Union Agent is a quick and easy way to strengthen your business.